ICONS OF MODERN ART: THE SHCHUKIN AT LOUIS VUITTON FUNDATION
Posted in News
Le
The exhibition "Icons of Modern Art": The Shchukin Collection is at the Louis Vuitton Foundation of 20 October 2016 to 20 February 2017.
We recommend visiting this wonderful exhibition at the Fondation Louis Vuitton and its emblematic Building by 
"Frank Gehry."
This collection of Sergei Shchukin quickly gathers works of famous Parisian painters and reflects the tumultuous history of the reception of modern art in the twentieth century. An impressive collection includes art by
Monet, Cezanne, Gauguin, Rousseau, Derain, Matisse or Picasso, Renoir, Lautrec and Van Gogh
. There is also some thirty works of Russian avant-garde.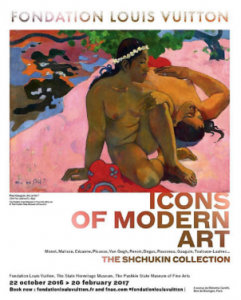 For more info, you can look at the official website of the
Louis Vuitton Fundation.
Hôtel de Londres Eiffel